Cemetery Fees
The following rates apply for the purchase of grave spaces:
| Description | Fee City Resident | Fee Non-Resident |
| --- | --- | --- |
| 1 space cemetery / memorial | $400 | $800 |
| 1 space Shanahan Section | $770 | $1,540 |
| Mausoleum Section | $3,500 | $7,000 |
| Deed fee - per deed | $10 | $10 |
| Locate Fee | $100 | $100 |
NOTE: Fee for cemetery lots for non-residents is doubled. This is due to the cost of maintaining our Cemetery. The City, Friends of Oakland Cemetery Committee and its residents take a great deal of pride in the beauty and quality of our cemetery. They are maintained throughout the year, and offer attractive locations for eternal resting place. Persons interested in purchasing a space or a lot at the Oakland Cemetery should contact Centerville City Hall at (641)437-4339.
Burial Information
Please contact City Hall at (641)437-4339 to schedule a burial at Oakland Cemetery.
Rules and Regulations
NOTE: scan and add here a copy of our rules and regulation
Interment Information
Interment Information for Oakland Cemetery is available via GraveDiscover.com.  The information provided on the Grave Discovery site is based on the burial records provided by the City of Centerville, however, they should be used for informational purposes only.  Please contact Centerville City Hall at (641)437-4339 to confirm a location for official purposes. 
City Policy on Allowable Grave Decorations
For purposes of maintaining a quality and aesthetically pleasing Oakland Cemetery, the City has established certain parameters for decorations. During Memorial Day decorations are allowed 10 days before Memorial Day and 10 days after Memorial Day decorations are required to be removed. Decorations are allowed the remainder of the year if decorations are on stone with any appropriate, non-offensive decorations. The determination of whether a decoration is of an appropriate nature will be made by cemetery personnel. Shepherd hooks must be placed in the footing of the headstone; the top of the hook shall not be more than 18" above the top of the headstone and must hang over the headstone. The addition will be at least four inches (4") thick and must be the same width as the existing headstone. Veteran and organizational markers must also be placed in the headstone footing. Decorations that do not conform to this policy will be removed and kept for thirty days. Decorations not picked up within thirty days will be thrown away. The City works very hard to maintain the cemetery, manicure the grounds, and keep the park clean. Cooperation with these guidelines will greatly help us, and will please our patrons.
Friends of Oakland Cemetery Bi-Annual Clean Up Days
Friends of Oakland Cemetery have set up the Bi-Annual Clean-up days in the cemetery for anyone interested in volunteering to help clean up. These days will be the weekend before Memorial Day weekend and weekend before Pancake Day in Centerville, which is the last Saturday in September. Friends look forward beautifying our Cemetery.
Other Activities in Oakland Cemetery
Memorial Day Service is held in Cemetery on Memorial Day. Veteran's Day Service is held in Cemetery on Veteran's Day. Also, Historical Society has an annual Haunted History Tour walk through in Cemetery sometime in October. There are several dedications and remembrances' held at Oakland Cemetery.
Friends of Oakland Cemetery Donation
Friends of Oakland Cemetery are looking for donations to help support our Cemetery. If you are interested in supporting the Friends of Oakland Cemetery, monetary donations can be sent to: Friends of Oakland Cemetery, PO Box 578, Centerville, IA 52544.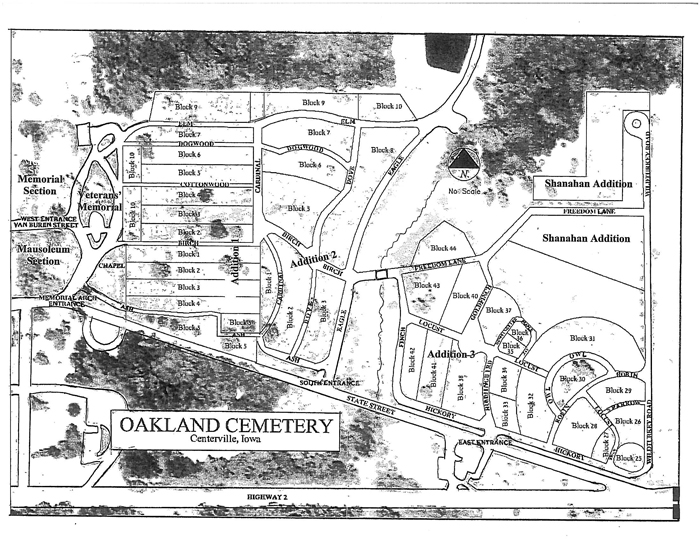 | Name | Title | Phone Number | Email |
| --- | --- | --- | --- |
| Kayla Moorman | Customer Service Representative | | kmoorman@centerville-ia.org |