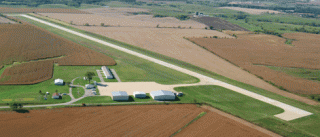 The Centerville Airport is a valuable asset to Centerville and surrounding towns. It is the largest Airport in Appanoose, Wayne, Davis, and Monroe Counties in Iowa, and Putnam County in Missouri serves an extensive clientele from these areas.
Not only do many of our current industrial residents use the airport to fly in and out of Centerville, making numerous business trips, for example, but other corporate planes bring visitors to our community. Those visitors are executives looking at Centerville and the surrounding area as a possible site for a new business or expansion. They might be investors and other interested parties headed for Honey Creek State Resort. Or they might be someone who loves flying and happens to stop in Centerville for a layover and a visit.
In an average month, the airport sees approximately 416 single-engine take-offs (5000 a year). Additionally, there are 16 airplanes based at the airport and a waiting list for more rental hangar space.
Airport Terminal
Regular business hours are from 8:30 am to 5:00 pm Monday thru Friday, with weekends, unattended.
The Airport terminal is open 24/7 where you can get into to use the phone, restrooms, weather computer, or if you need a place to sit awhile, and even stay overnight if required. It also has coffee, snacks, and pilot resources.
The Airport carries aviation oil and other resale items for pilots and aviation enthusiasts.
The airport has 24/7credit card pumps with 100LL, Jet fuel, and Mogas. It accepts all major credit cards. During regular business hours, if you choose to pay with cash, check, or a Phillips credit card, there is a 10c a gallon discount per gallon.
Also, there is an air compressor to fill tires, ladders, towbar, and a tug to assist in your refueling needs. Tie-downs are available on the apron.
Customer amenities also include a courtesy car(s) that can be used by patrons during their stay in the area.
Airport Courtesy CarsOur runway (34 & 16) is concrete and is 4100ft long and 75 ft. Wide. Runway edge lights are operated by the pilots when they press their radio microphone push to talk button three, five, or seven consecutive times. We also have PAPI's (precision approach path indicator) is a system of lights that provide visual descent guidance information during the approach to a runway. This system offers a visual glide path that allows for safe obstruction clearance from the start of descent to the threshold. And REIL's (runway end identifier lights) that provide rapid and positive identification of the approach end of a particular runway. The frequency of the airport is 122.8.
In the past ten years, the Centerville Airport has grown to become an integral part of the area business community. By providing aviation services to existing local businesses, they remain healthy and competitive. Local business leaders acknowledge that the airport is an integral part of the future economy of the area.
Through the efforts of the Airport Manager, the direction of the Airport Commission, and support of the Centerville City Council, the airport continues to grow and meet the ever-changing needs of the business community.
In past years, the airport has hosted fly-in's that catered to numerous pilots and flight enthusiasts by serving food. It is interesting to see all the different planes come in as the people, and where they fly in from, who come back year after year. The public is welcome to attend the fly-ins.
AWOS (Automatic Weather Observation System) Our AWOS provides information on wind speed and gusts, wind direction, air temperature, dew point, precipitation, barometric pressure, visibility, cloud/ceiling height, etc.
Frequency - 123.775
| Name | Title | Phone Number | Email |
| --- | --- | --- | --- |
| Jason Fraser | City Administrator | | cityadmin@centerville-ia.org |
| Name | Title | End of Term |
| --- | --- | --- |
| Mike Zintz | Member | April 01, 2027 |
| Annette Harvey | Member | |
| John Arnold | Member | April 01, 2024 |
| Paula Dal Ponte | Member | April 01, 2026 |
| Danny Glenn | Member | April 01, 2025 |